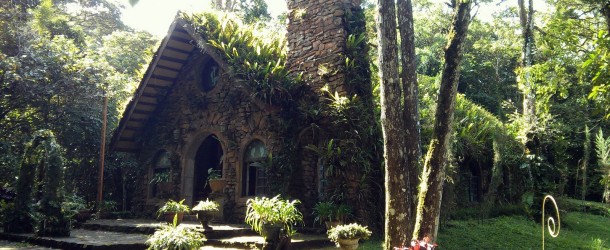 I begin my Nicaraguan journey by introducing a fantastic example of what could be called a most responsible project in the northern part of the country (where it is cool; what a wonderful change! here it is 19°C on average all year long), at 1,200 meters (about 4,000 ft.) of altitude, some 20 minutes away from Matagalpa and less than 2 hours away from the capital (Managua):  the Eco-Lodge Selva Negra.
I am spending a very lively week with Karen Kühl, Manager of the hotel-side of this lovely family endeavor. Things were very lively here: by chance I arrive just in time for a four-day national holiday, celebrating the country's independence (September 15, 1821).  I am helping Karen to make a list of all the wonderful sustainable practices at Selva Negra, and also giving a hand in the restaurant when the rush is on… this reminds me of some great times!  Haaaa… my crazy student years!

Selva Negra: from Bavaria to Nicaragua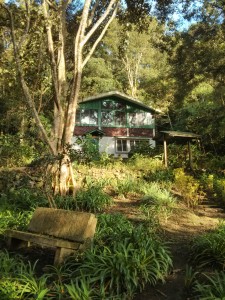 Selva Negra is known throughout the country, but also all the way to the United States, for the quality of its organic shade-grown coffee.  [Coffee that is grown in full sun produces more beans but is at the root of massive deforestation … and this type of coffee (that grows very/too rapidly) is much less flavorful.]
The adventure began in the 1800's, with the wave of German expatriates who came to live in Nicaragua to help the country develop its coffee production.  Hans Bosche first developed a farm called  "Hammonia" (i.e. from Hamburg), the first property to plant coffee in this region.  Then the Kühl Family took over the property in 1975, renaming it "Selva Negra" (referring to the Black Forest in German Bavaria), and began to develop the eco-tourism aspect of the project.  I am to spend most of my time with Karen, one of Mausi and Eddy Kühl's daughters, who manages the eco-lodge side of the project with her husband.
This property covers around 450 hectares (around 988 acres) which is used as follows:
25% for human activities (e.g. hotel, restaurant, organic farm, workers' homes);
40% for growing coffee that is fair-trade, shade-grown (under lots of trees), and organic (without the use of chemical products), which allows animals to live their peaceful life without trouble; and
35% for a protected nature reserve—this part of the mountain is deliberately left to grow wild to the great joy of fauna and flora, and … hikers!
Eco-agriculture & Eco-tourism: a truly sustainable project
I helped Karen and Mausi put together a PowerPoint presentation that illustrates all of Selva Negra's sustainable practices.  To organize it, I used the categories found in HopSolutions of Hopineo (click here to see the Hopineo article):
Selva Negra's NGO (Non Governmental Organization) website : www.sncfinc.org:
"The mission of the Selva Negra Community Foundation, Inc. (SNCF) is to implement education and research in sustainable living in the Matagalpa and Jinotega region of Nicaragua. SNCF provides technical expertise in organic farming and alternative energy to local farmers and neighbors, promoting a viable livelihood for generations."
As we are in the digital age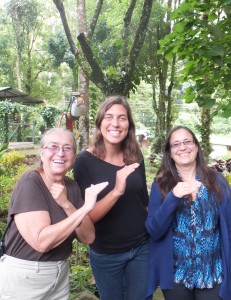 I did some research and shared with Karen a few recommendations in the area of marketing, specifically regarding on-line distribution.  For the moment, Selva Negra only takes reservations through direct means (i.e. by telephone or e-mails through its website).  At the moment, it is a workable system, because there are no commissions to pay and it's rather easy to manage, especially since the hotel (which has some fifty accommodations of various types : private bungalows, bedrooms, group dorms) has no PMS (Property Management System), so everything is done on paper with the use of a general ledger.  But if we were to multiply the reservation sources, this would surely and quickly become a bit too complicated to manage…
Yes, but …!
Today (and the trend increases exponentially each year), so as to maximize one's available space, it always becomes more important to:
sell through OTAs [Online Travel Agencies, such as Booking.com or Expedia.com, just to mention the two most important members of this huge (or too huge?) family.] Why do you ask? I will soon write an in-depth article on this subject 😉 However, this means that, to easily and effectively manage one's on-line distribution, using a channel manager connected to a PMS becomes an indispensable basic tool… [I started to work on a presentation on this subject (click here!)]; and
work on one's Google referencing, generating content that is pertinent to one's target market (e.g. through a blog), and sharing it intelligently using social media.
Throughout this Hospitality Tour, I'm developing new tools so as to try to best explain these different e-marketing issues in detail, and as efficiently as possible.  If this interests you, you can find all my articles on the matter, and—most importantly—please don't hesitate to give me your feedback!
And so to conclude, if you are thinking of traveling to Nicaragua (a beautiful country!), plan to spend a minimum of two days at Selva Negra in order to discover all there is to know about its coffee, cocoa, farm, and mountains (by day as well as by night …!), to observe the birds … if you are lucky, you might even spot the famous Quetzal at Selva Negra!  But especially, don't forget to say 'hello' for me to Karen, Mausi, Vicky, and the whole family.
Read also the article that I wrote for Sustainability-Leaders website:
Selva Negra: Coffee Plantation Becomes Ecolodge in Nicaragua
Translated by Hélène
a volunteer english teacher from Montreal
with whom I spent great evenings at Selva Negra (merci!)
Selva Negra Eco-Lodge Presentation (in French)
Selva Negra Organic Farm (in Spanish with English subtitles)
Selva Negra Organic and Fair Trade Coffee (in Spanish with English subtitles)
The Different Steps of Coffee Process (in Spanish with English subtitles)