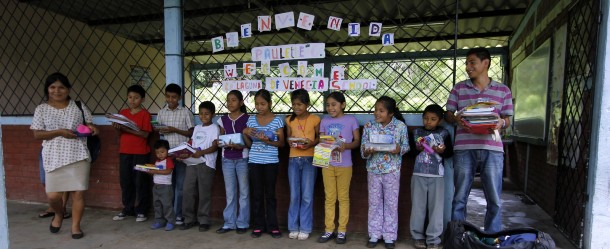 After visiting the Selva Negra "Organic Farm and Coffee Plantation" Eco-Lodge, I continue on my voyage of discovery to find out all I can about Nicaragua by visiting a non-profit "Spanish-language school" Eco-Hotel: La Mariposa, another great touristic idea with a different style and concept, also (or even more so?) involved in the community. La Mariposa is a non-profit eco-lodge. Paulette, the manager, confesses me that she does not even pay herself a salary. The income earned is used entirely to finance local development projects. Is there a better way to show a greater sense of responsibility?
From Spanish language school to foundation for responsible tourism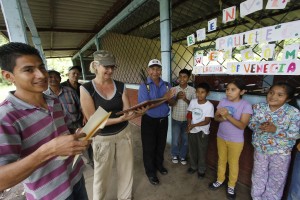 Paulette is a British citizen who fell in love with Nicaragua in 1987 (my year of birth, so this was 27 years ago). She fell in love with the country but also with a little girl whom she adopted and brought back home to the United Kingdom. After returning regularly to Nicaragua as a visitor, in 2006 she finally returned "for good," with a plan to open a Spanish-language school: La Mariposa.
La Mariposa offers Spanish lessons and lodging in its eco-hotel. But this is not all: first and foremost, it is a big local development project for the community of San Juan de la Concepcion and its surrounding area. All the income generated by La Mariposa is first used, of course, to pay employee salaries and operating bills, but the left-over "profit" is then used in its entirety to finance the many ecological and social projects it supports. In any event, Paulette does not pay herself a salary. Moreover the project has a new name: "Foundation for Sustainable Tourism". For an overall view of all the sustainable practices that La Mariposa has put in place, I invite you to read a presentation on its framework on Hopineo (click here!).
So what types of projects does La Mariposa finance? There are many of them, and there are new ones each month so it is difficult to give you a complete list, but here are a few examples: distribution of ecological stoves in order to curb deforestation; construction of latrines (dry toilets); women's bakery and sewing cooperatives; donations of school supplies to various schools; adult literacy classes; tree planting to reforest certain areas; work on developping an actual environmental and social eco-tourism project, in collaboration with the Masaya Volcano National Park.
It is important here to emphasize that all these projects are initiatives that are first proposed by the local communities. The La Mariposa team studies the proposals, and then establishes priorities and action plans according to available resources (see the article on Hopineo that describes how important it is to be well acquainted with the area's actual needs before launching a community project).
Volunteering and Homestays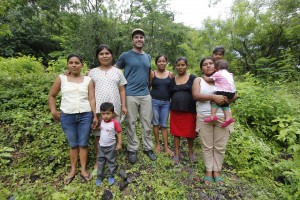 La Mariposa offers two different programs structured around a 20-hour week of Spanish-language courses. You can choose to either reside:
at the eco-hotel and take part in numerous cultural and touristic activities (there is a new program every month) for a starting price of $400 per week; or
with a local family and be a volunteer, starting at $250 per week.
It would appear that there are many opportunities for volunteering in Nicaragua. However, based on the experience of a few travelers one meets along the way, the programs offered are not always useful in the long run … and can also be quite costly. In any case, as far as La Mariposa team is concerned, I can personally testify to its professionalism and the usefulness of its approach. If you are hesitating, don't: you can be sure that your help will be worthwhile, and your money well spent.
French travel forum & new flyer
During my short three-day stay at La Mariposa, I tried to provide some assistance, albeit in a rather limited way by:
adding references to La Mariposa on the websites of two French travel guides: Le Routard and Le Petit Futé;
answering messages in French on different travel fora, highlighting La Mariposa's features;
and also especially by editing and working on the layout for a new flyer, now revised and condensed.
I am not a graphic designer … rather, my job is to understand the marketing objectives of my client so as to adapt its message, and propose a framework. Here, for example, the objective is mostly to catch the attention of travelers who wish to learn Spanish, and pique their curiosity (in order to convince them to access the website for more information). The pamphlet is presently distributed to various youth hostels and B&Bs throughout the country, where it is mixed up with a huge bunch of other ones … I suggested that the document layout move from a three-page pamphlet to a simple 1/2 page double-sided flyer so as to reduce the use of paper and more clearly summarize the school's message, using only three photos and three sentences: "Learn Spanish – Meet the Community – Discover Nicaragua Nature and Culture." What do you think of the result? (see the front of the flyer below on the left, and the reverse side on the right.)
Translated by Hélène Masson from Quebec
volunteering in Nicaragua to teach English