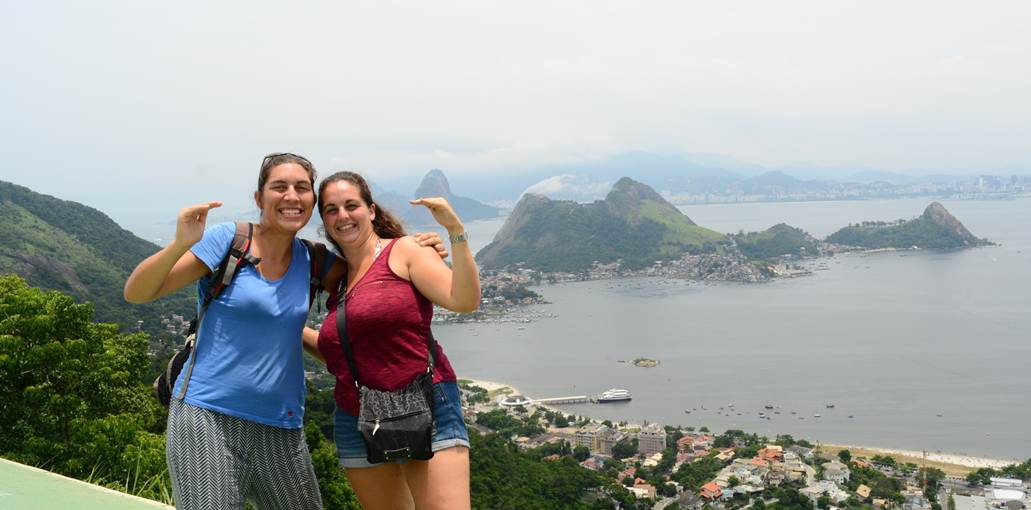 After a short stop over in Foz de Iguaçu to cross the border Paraguay-Brazil, I went "directly" (25h of bus…) to Rio de Janeiro. It was quite a special beginning as I arrived right for the carnival! I went for ten days on the wonderful Ilhabela island (which is a natural UNESCO biosphere reserve). And I am right now in Sao Paulo… from where I'm about to go for a second Sao Paulo-Rio-Ilhabela loop! I explain it all below!
Foz de Iguacu
I had the chance to visit the brazilian side of the famous Iguaçu waterfalls on an "informal" way thanks to the paraguayan Moises Bertoni team who had a business meeting there with their brazilian partners… and took advantage to take me along.
In Foz de Iguaçu, D'Arcy Dornan, my ex-professor and canadian friend (who lives now in Sao Paulo), put me in contact with Anne-Sophie, a french biologist who is leading an amazing transversal job uniting conservation, local communities and tourism (visit her website www.rede-verde.org).
Rio de Janeiro
I did not think that I would make it during the carnival : prices are getting super high, and impossible to find a project with whom making the swap (HopTrip) during this very busy period.
However, thanks to Ana (editor of the website Viajar Verde) who generously welcomed me at her home, I had the "carioca" carnival experience… and such an experience! It's all a bit crazy crazy here at this period…!
With Ana, we went for a day excursion to the other side of Rio de Janeiro bay, to Niteroi, invited by Lenauro, Marketing Manager for the brazilian adventure tourism association ABETA, and Director of the Agency Terra Brasilis (cf video on Facebook).
In Rio, I also got together with my ex-colleagues of the Sofitel Lyon Bellecour and friends Sabina & Brice (that I had seen already last april in Quito as Sabina is ecuadorian and I stayed at her dad's Renato there). We closed this first stay in Rio with a night all together at the famous "sabodrome"… impressing!
Ilhabela
For a few weeks I was in contact with Maud (thanks to our common friend in Peru Antoine of the Agency Transhumancia). We finaly met in person in Rio and went then together for ten days on the Ilhabela island. Maud is a geographer and has also a passion for sustainable development. Maud is french, lives in Dominican Republic, but is traveling right now through South America swapping also her skills and time with independent tourism providers, kind of like me!
I had met Alex (B&B and receptive agency Sambaquis) during the ATTA international adventure tourism conference in Chile last october. We remained in contact since then… and here I was there for a "double HopTrip" in the island with Maud, who is joining now the Hopineo team! (cf video of our day trip to Bonete beach on Facebook).
Sao Paulo
I had planned to stay longuer on the island but my computer charger broke down suddently. I had to go then to Sao Paulo to buy a new one.
D'Arcy welcomed me very warmly in his family. We took advantage of me being already there to organize a few meetings with responsible tourism stakeholders and working together on developing the Hopineo – GSTC partnership, thus as the Hopineo Latin Network of HopAmbassadors… results of all this coming soon!
And here I am, going for another loop !
In Rio I had been in contact with two initiatives of community-based tourism in the favelas. As it was carnival, it was not really the good time to work together and I had left then to Ilhabela. Then, I decided to go back next week to Rio: it's only at a night of bus from Sao Paulo. And then, I'm thinking of going back to Ilhabela… so, as I was writing it, I'm on my way for another loop, literally!