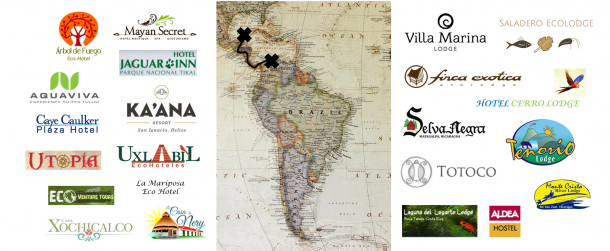 These past six months of gallivanting around Central America comprise the first chapter of this HopTour through Latin America which is now coming to an end. From Mexico to Panama, I gave a marketing boost to 25 hotels in exchange for room and board. I also took the opportunity to learn all their best practices in ethical tourism in order to share this information on Hopineo. I had fabulous experiences, and met incredible people … Before changing continents and going off to Colombia, I want to share with you a quick retrospective on this first part of the adventure.
Central America: from Mexico down to Panama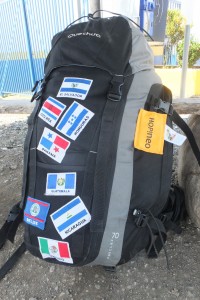 1 back-pack and 1 Florie
8 countries in 6 months
19 HopSolutions pulled together (hotels' sustainable best-practices)
25 full room-and-board Hotel stays in exchange for my set of skills
188 nights under the starlit skies of Central America
300€ spent on average per month
6,000 Kms. travelled by bus and boat
Hosts Committed to Sustainable Tourism

Selva Negra Eco-Hotel; Finca Exotica Ecolodge; Totoco Ecolodge; Arbol de Fuego Eco-Hotel

By joining the Hopineo team, I added a singular dimension to this Hospitality Tour: that of working together for a more ethical tourism. As a priority, my plan is to contact hosting entities that are engaged in the process of sustainable development. During my tour of Central America, at least half of the hotels I visited can, I think, be considered as examples in this respect. The second half, although they have not yet necessarily put in place a whole panoply of practices, have at any rate demonstrated a real will to go in this direction. I invite you to go straight to Hopineo.org to see the list of hotels I stayed at, as well as their best ethical practices.
Off the Beaten Path
Saladero Ecolodge; Laguna del Lagarto Lodge; Montecristo River Lodge; Utopia Eco-Hotel
First of all, Central America is mostly comprised of (at the moment anyway) land that is still undeveloped —primary forests exhibiting a stunning biodiversity. Costa Rica, for example, is well known as a very "eco-tourism" destination. Some lodges I visited were only accessible by boat; others were found all the way at the end of dirt roads, two hours or so by car from the nearest small town. As a result, I found myself several times in the very center of a tropical jungle, exactly where the howler monkeys' screams were my morning wake-up call …!
At Home with the 'Locals'

Marion & Carlos, Cancun; Casa Xochicalco; Casa Nery; Karen's grandmother's home, Managua
To illustrate: My trip was gently launched at its beginning in Cancun at the home of a French friend of mine and her Mexican boyfriend. (Many thanks once again, Marion and Carlos!) Also, I was sometimes put up in tiny hotels, some with only 5 bedrooms, for example. Once I even stayed, out of the blue, at the home of a manager's grandmother (Thanks Karen!). I am normally a great advocate of Couchsurfing. However my hotel stays were always so well organized one after the other, that I did not even meet a couchsurfer during my entire tour of Central America … but you see, all the same I lived through a few "staying with the locals" experiences …!
Experiencing Local Management

Uxlabil Eco-Hotels; Mayan Secret Boutique Hotel; Jaguar Inn Hotels; Cerro Lodge
A third of the owners who hosted me were of local origin. I was therefore able in certain cases to see how things were done in entities whose management was 100% local. This often gave me as well an opportunity to learn even more about the country's culture, its history and its traditions, as I was living the local life for a few days. As a result, some hotel owners and employees have become close friends. They took me around so that I could discover the surrounding areas, and even at times invited me to their homes. I really hope our paths will cross again. Maybe on Hospitality Tour #2 one of these days … on my honeymoon perhaps?! I often joked about that … but why not?! All I have to do is find the groom …! Any volunteers?!
Stopovers in Youth Hostels

Caballitos del Mar; Aldea Hostel; Casa Verde Hostel; Bigfoot Hostel
In-between those stays in various hotels as part of my 'mission', I made a few stopovers (5 times in all) in youth hostels. That's how I was able to pass my advanced PADI (Professional Association of Diving Instructors) certification in Honduras, rested for 10 days on the island of Ometepe in Lake Nicaragua (at $5 a night at the super small and great hostel Caballitos del Mar right on the shore), or even made a last-minute deal with the manager of a hostel in Costa Rica's capital (where I had meetings with the Rainforest Alliance and the CST). As to the latter: so many memories come to mind; it is with the same type of deal (room and board in exchange for a quick course in Revenue Management) during a trip through Spain that the idea of creating this Hospitality Tour came to me.
Luxury and Sequins

Ka'Ana Resort; Villa Marina Lodge; Tenorio Lodge; Aqua Viva Tulum Experience Suites

Hotels at $ 200/night … they were also part of the adventure; yes, really! I mean it! My top pick is the Ka'Ana Resort in Belize. This beautiful small 17-room hotel is in fact part of very exclusive networks: SLH (Small Luxury Hotels of the World), Signature, Kiwi Collection and Splendida. Just saying! And then, I was very spoiled when I passed a month and a half with the Villa Marina Lodge team in Panama: breathtaking sunsets with views from the pool giving onto the ocean, and a style subtly blending old and new: I loved it! Tenorio Lodge got my vote for the best view from my bed, and Aqua Viva Tulum, my very first tiny hotel, for the very sleek and refined design of its spaces, worthy of the most stylish magazine brochures!
The Unlikely Ones

Caye Caulker Plaza Hotel; La Mariposa Eco-Hotel; Trujillo Eco Beach Resort; Intercontinental Tegucigalpa

Why "unlikely?" Let me explain:
Caye Caulker Plaza Hotel: I contacted this hotel on the advice of a LinkedIn acquaintance. The hotel is a large concrete block and run by a family originally from Hong Kong. It is certainly the hotel that least represents my idea of "sustainable tourism"; however, I am greeted with a warm welcome, by a very friendly team with whom I am still in contact!
La Mariposa Eco-Hotel: quite the contrary … This eco-hotel, which is first and foremost a Spanish language school, is certainly the most responsible of them all since all the profits are reinvested in local development projects. However I received a lukewarm reception. (PS: this was probably due to the fact that this was not the right time for the owner who was going through a difficult time on a personal level; consequently, no hard feelings on my part).
Trujillo Eco Beach Resort: a huge ongoing construction project of 500 condominiums for future Canadian retirees in a still very isolated region. I find myself again staying in a "ghost" hotel, which is a rather strange feeling. But again, the team's empathy makes it a very positive experience.
Intercontinental Tegucicalpa: Santi, my ex-roommate and friend from Argentina, was sent to the capital of Honduras on a professional mission for 15 days while I was also passing through the area! What luck! They offer him a spacious room with two Queen beds: there we are once again, roommates for a whole weekend with chauffeur, turnovers and lobsters … top notch, right?! (Thank you Santi!)
Here I come, South America…
And so, here I am right now, once again in Panama for a little rest a little, and to spend the year-end holiday season quietly with the Villa Marina Lodge team. On January 5, off I go again! I will hop on a ferry to Colombia where the continuing adventure awaits, this time all the way through South America! Will you still come along with me?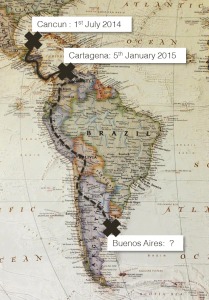 A big "thank-you" to all the hoteliers
who played along all through Central America!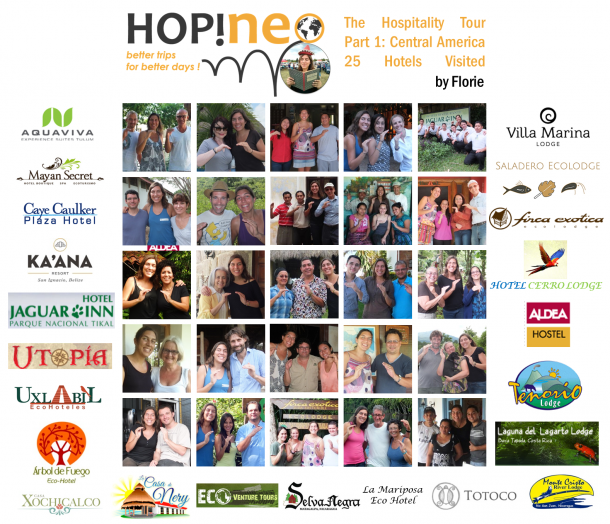 Translated by my friend Hélène Masson