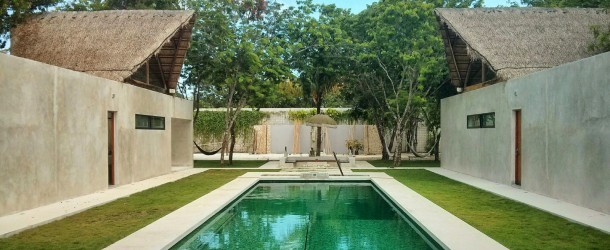 Following Cancun, Queen of excesses, here I am in Tulum, its little cousin. Both are part of the "Mayan Riviera" dynasty, however their style differ from each other. I had just fallen for its charm… Welcome to Aqua Viva Experince Suites Tulum, Giorgio's hospitality project, a dream that has come true… for Giorgio, but for me too. After 2 months preparing this Hospitality Tour, I finally move into action: 1st stay in the 1st hotel on my great Latin American adventure !
It should have been a 4 nights-stay but I eventually accept Giorgio's invitation, and make it a whole week in this little piece of paradise. We'll spend the week developing a marketing plan and initiating the use of a channel manager. This week is also allowing me to visit the astonishing treasures of Tulum and to refine my "Hospitality Tour" communication supports (blog, Hopineo, tourism school contacts, videos  channel, etc…).
A lot of people are asking me how this "skills for a free bed" exchange is working, and how do I organize my days: Is it like holidays,  or do I work a little bit at least ?!… Here's the answer…
Give a hand to the hotel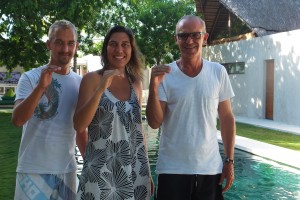 1st hotel mission at Aqua Viva Tulum, where I am welcomed as a part of the family by Giorgio (on the right of the picture), the owner of the place. Giorgio was born in Venezuela but lived a  great part of his life in Switzerland. He speaks fluently Spanish, Italian, French, English and German, nothing less ! He lives in Mexico for over 8 years and opened his hotel (including 4 suites and 2 rooms) a couple of months ago (in December 2013). The hotel is also Giorgio's home.  There he welcomes his "customers" like guests, developing special relationships with them. Some of the guests even become friends.  This also Giorgio's dream, not only an hotel but a place for meeting and sharing.
More than anything, Aqua Viva is a little haven of peace, a piece of paradise, an oasis of quietness in Tulum (Have a look at their great video presentation). It feels like being in one of those villas you only see in design magazines. It's really magnificent. It's the first time Giorgio manages an hotel. He was working in ceramics before, and his passion is architecture. He really likes art and Aqua Viva is the product of his creativity and sensitivity.
I also meet Matus (on the left of the picture), the business manager and Giorgio's right hand. Matus is Slovakian ! A bit of a surprise: It's funny to start the adventure besides a Slovakian, as my grand-grand-mother was Slovakian. I therefore have bonds with Slovakia, and I am still in contact with cousins living in the village of Rohoznik, near Bratislava.
So, how do I organize my days ?
Every day, from 8 a.m to 2 p.m, I work with the team for an optimization of online presence, the development of an organized duty list for the next months, the making up of a draft of an income statement….. As this is my first hotel mission, I am still learning how to start.We are speaking about everything and I want to help about many things, but I am only staying one week so we have to set up priorities. Objective #1: Configuration of a channel manager to facilitate inventory and prices updates on OTA's (Online Travel Agencies such as booking.com, expedia, airbnb, etc…). After conducting many researches on internet looking for experts (especially through LinkedIn groups) I contacted Ben, a French-Irish living in Dublin. He develops a small consulting company for hotels (HotelMinder). He offers helping hotels to choose the best channel manager/PMS (Property Management System) solution for each property. After discussing through Skype, Ben joined my team as an expert ambassador, bringing in his expertise in order to assess cases related to my journey's hotels ! Isn't it great ?
Disconnect and go for the treasure hunt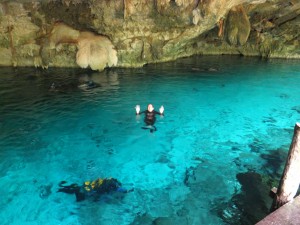 Well people who know me are already aware… When I start something, it's hard to stop me. I want to do everything to the max. And I won't stop until it's done as I want ! But luckily, Giorgio and Matus are here to remind me what I could be missing : "Florie, come on, what about a walk on the beach and having a break ?!"
Tulum's atmosphere is clearly different from Cancun. The beach is still lined up with hotels, but on a smaller scale, more like bungalows. Much more relaxed. I prefer it like that !
Therefore every day I happily "force" myself to  go around and discover the best of Tulum. The program includes: Idyllic beaches, hammock reading sessions under coconut trees, mango ice cream, Mayan ruins, diving in cenotes (underground groundwater pits), tacos, romantic dates with iguanas, "full moon party"… Well, I can say I spent a beautiful week in Tulum 🙂
Find all of the videos and photos in the blog's "Gallery" section. Images speak for themselves 😉
Reconnect to refine my "Hospitality Tour"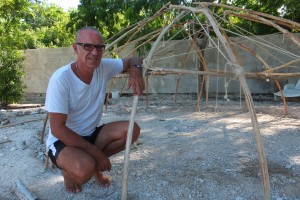 And at sunset I reconnect. Indeed this journey, this project, implies some rigor:
Answering my e-mails everyday, especially when it comes to contact with the next hotels I will stay at.
Write an article on my blog about each hotel I stayed in.
Write an article for Hopineo.org with an hopinnovation description (example of sustainable practices). For example in Aqua Viva, I wrote a text on the construction of a Temazcal (See picture above).
Coordinate the translation of my articles in English and Spanish with my polyglot ambassadors.
Animate Facebook, Twitter and LinkedIn.
Send a weekly newsletter in French and English.
Keep on developing hospitality management tools for hotels (blog articles and power point presentations).
Keep on developing my blog and supplying it with pictures and videos.
You see, I have got enough to keep busy… Nevertheless, with time and experience, I will become more and more efficient. Some tasks requires to be done once and for all and then it will be alright. I could have chosen to postpone my journey in order to prepare everything beforehand. I decided to start right now, conscious of the time investment it would represent, especially at the beginning. It's important to be rigorous enough to hold the rythm.
Anyway, the outcome is more than satisfying ! I really enjoy this way of working while traveling. I am learning a lot and it makes me happy to be useful. And as with "Couchsurfing", I am welcomed like a friend by hotel managers. I share a bit of their lives, and I discover the region and the country through their perspective. They invite me to diner, I cook for them. It is all about sharing and exchanging ! Even though it is time-consuming, the experience is very rewarding. I really feel lucky!
I leave Aqua Viva Tulum with a twinge of sorrow. I have just started making myself like at home and it is always difficult to depart from a place you enjoy… I am welcome to come back anytime and Giorgio is sure that we will meet again ! I hope so too. Hasta Luego Giorgio, Matus, Tulum… Now heading towards Chetumal, the last southern city before Belize, where I will be welcomed by Rosa and the Secret Mayan Boutique Hotel for a new adventure !
Translated by Nada Bouchta and Guillaume
Concerning Aqua Viva Tulum's website, do you have any suggestions to make it better?