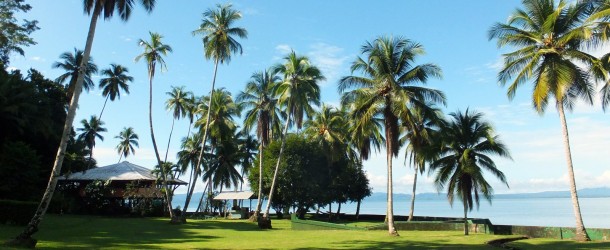 After a week in a "tiki-tent" on the peninsula of Osa at the Finca Exotica Ecolodge, I didn't have to go very far for more adventure: all I needed to do is cross the Golfo Dulce, and here I am three hours later already at Susan and Harvey's: a small ecolodge only accessible by boat! Have you ever spent, just like this, one short week in a place where there are no roads whatsoever, and where your only neighbors are monkeys in their primary forest and dolphins from the gulf? Welcome to Saladero Ecolodge!
A English-Speaking Break with Coconut Trees and Mangroves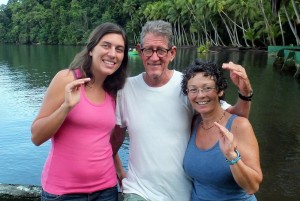 My visit to Saladero Ecolodge coincides with Drew's, an American around my age who has been living on the peninsula for 8 years, and whose job (and passion) is to climb the largest trees in the area to cut off a few branches, if and when they threaten to collapse on top of houses.
Harvey is also an American while Susan is English. Both have been living here at Saladero, for the past 8 and 4 years respectively. The high season is back as of next week. Therefore these are their last few quiet moments during which they may prepare for the non-stop onslaught of guests from the four corners of the world. I spent these few days feeling rather "disconnected," in the company of these 3 very friendly Anglophones. It had been a good while since I had spoken so much English at one time, but that's okay: it all came back to me quickly!
Once again I am spoiled: a very comfortable room, but especially, with a really lovely kitchen as well. I am going from one culinary discovery to another, and what's more all of it accompanied by red wine, hummmmm. As a thank-you to my hosts, I prepared a last meal in their honor; on the menu: ficelles picardes (a dish from Picardy composed of crêpes filled with ham and mushrooms). What a wonderful gastronomic week this was!
Saladero Lodge is a very small lodge, but it is also mostly Harvey and Susan's home where they live year-long. Actually, they are the ones who cook for their guests. So since there weren't any other customers while I was there, it was just as if I were their personal guest. What luck! This is what is called "an exclusive stay." However, I did work hard with Harvey to improve their website, among other things. I'll meet you on Hopineo so you may get better acquainted with Saladero Lodge and all its lovely sustainable practices.
Kayaking vs. Jogging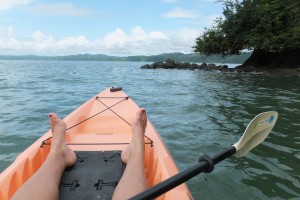 Fine; I will admit that, ever since I left Barcelona, I sort of dropped the habit of running 10 km. every other day … which nags at me a little because of all the gallo-pinto (mixture of rice and red beans) and small dishes that the hotels serve me: these are indeed very rich in flavor—I love them—and it is much easier for me to say: "sure, I'll take a second helping" than "no thank you; I've had enough"!
Yes, but it is not my fault! You tell me: how can I run on a regular basis? It is much too hot, and sometimes there aren't even any roads, or the paths are covered in venomous snakes … so what can I do, eh? I eat well, spend my time tapping away at my keyboard all day, and so should I become a walking puff-ball?
Therefore, what I strive to do is the following:
1) I avoid having a beer every day.
2) The moment an opportunity comes up for me to take a long walk or do some physical activity or other, I always say yes.
3) And then for example, this morning I went kayaking alone, like a big girl, for at least an hour and a half. Since I can't tone my calves this way, at least my abs and the top of my back are getting a good workout. Moreover, all of this in the middle of mangroves and wild forests: with ibis, parrots and other birds (I don't even know their names) right in front of my eyes; not a bad compromise, right?!
Life in the Tropics: Behind the Scenes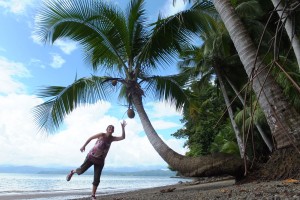 As I said above, I am very spoiled here: a comfy bed in a private bungalow, all cozy and dry. It would be almost too easy to forget that I am in the middle of a tropical forest… well, almost… but I don't because of:
the unending and constant blitz attacks by mosquitoes; I say mosquitoes but they are actually "sancudos," tiny little mosquitoes rather like New Zealand sandflies… not really among the top five things you would like to remember about New Zealand… in any case, because of my naturally tattooed calves I now look like a warrior-goddess-adventurer of the jungle; rather unique in itself, right?
my permanently semi-damp clothes, really difficult to get dry, some of which have this dubious smell which I might not ever be able to get rid of… a good excuse to get a new wardrobe for Christmas;
small sores that don't heal well, and then recently my left ear has started to hurt a little. "Welcome to the tropics, said Susan; it is very likely due to fungi!" You will say that all of this is not very nice, nor appetizing, but apparently this is all part of the normal every-day life over here (Mom, Dad, Grandma, don't worry: I am going to a drugstore tomorrow; like I said, this is nothing unusual, and it would seem that they have quick and effective treatments for all this).
So (maybe) it is with fungi in the ears (!!) but especially after having discovered another lovely place to stay that I say 'goodbye' to Costa Rica.
So yes, indeed, Costa Rica is much more expensive than all the other countries in Central America, but this is true not only for tourists: it is so for life in general there because salaries are higher. So there is no need to complain about it since this is a rather good thing for Costa Ricans; because of it, they enjoy a stronger purchasing power when they visit neighboring countries. And for those people who say that Costa Rica has become too touristy and has lost some of its authenticity, I have to say that I really don't agree. It is true that I have not gone everywhere and that I have only seen a little part of it; perhaps some places are how those people say.  But everywhere I have been, people were super friendly, and the flora and fauna are mostly quite untouched. Therefore, for those who are interested, there is still a Costa Rica off the beaten path; if you consider the places where I stayed (Boca Tapada, Tenorio, Tarcoles, Peninsula de Osa, Golfo Dulce, Saladero) you will fall right in the heart of it. Costa Rica is truly la "Pura Vida"!
I am leaving tomorrow for the last country of this first chapter of the Hospitality Tour. Soon I will be saying goodbye to Central America … but not right away, not yet. First I invite you first to follow me to … Panama!
Translated by my friend Hélène Masson