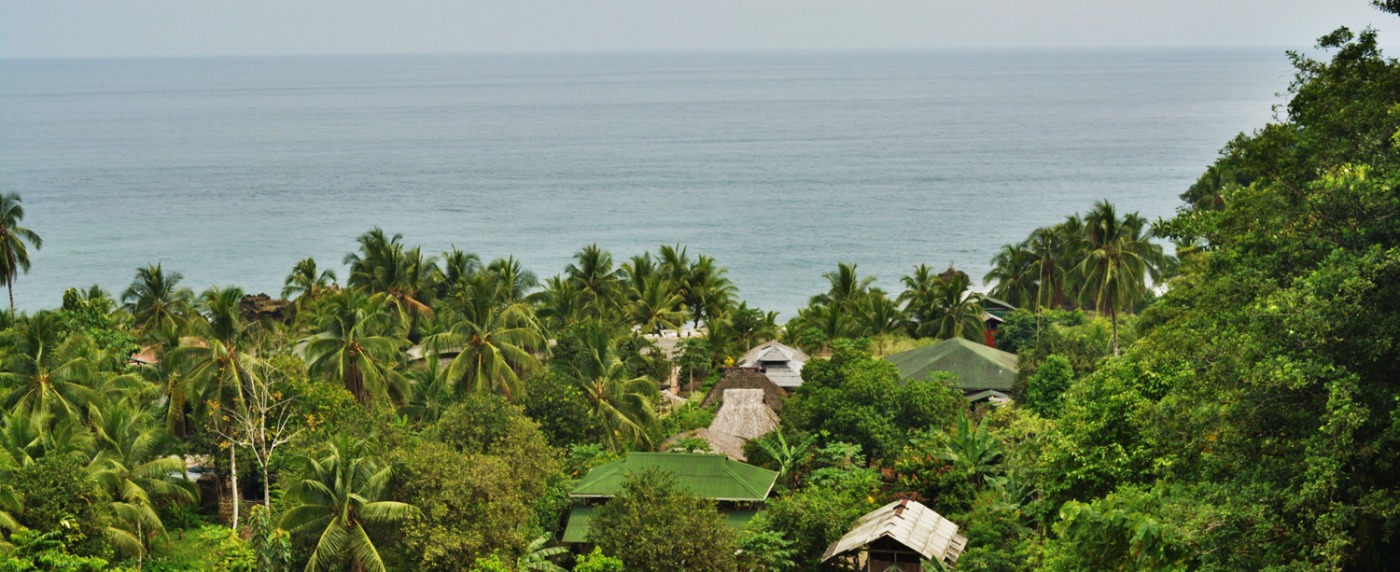 Travelers rarely stay in Nuquí Village itself; most prefer to go some 30 minutes south of there where there are heavenly beaches and rows of coconut trees. Monday morning, I bade goodbye to the team at the Nuquí Mar Hotel, and later found myself on the pier where Elisabeth and Benjamin of La Joviseña came to meet me. Off we went to Guachalito Beach.
Guachalito, « the » beach at Nuquí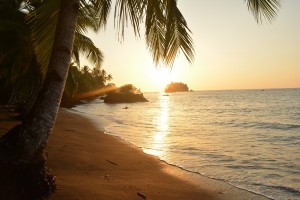 Guachalito Beach is between the tiny villages of Jobí and Arusí. For the past twenty years or so, some Colombians (often coming from Medellín) have come to invest in the area, buying seaside land and building small lodges … hoping for a future tourist boom (which has not appeared as yet).
The area truly deserves its reputation. The beach, still mostly untouched, is bordered by mangroves and jungle on one side, and by a sprinkling of rocky creeks here and there on the other. It is quite safe to swim and bathe in that area, and sometimes there are a few interesting waves to make a few surfers quite happy.  Guachalito is truly the perfect picture post-card spot, what with the ever-present coconut trees and its happily facing south-east, promising superb sunsets!
La Joviseña, rooms for rent with 100% local flavour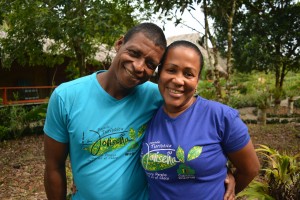 Elisabeth comes from the little neighbouring village of Jobí (where the name « la Joviseña » comes from), and she married Benjamin who comes from Guachalito Beach itself. It is difficult to make our business-couple more local than that! They became one of the very first local families to throw themselves into the business of welcoming travelers; that was already some twenty years ago. They began by renting out a room in their home and, little by little, they launched themselves into the construction of private cabanas so they could be in their own once again while making more comfort available to visitors.
Elisabeth and Benjamin were pioneers, not only because they welcomed tourism but because of the way they did it, with full respect for the surrounding nature, thus promoting ethical tourism. La Joviseña is equipped with septic tanks, and its six cabanas were built using wood from their own mini-plantation.  Organic garbage is composted and used in the all-natural garden, which in turn provides a large part of the ingredients needed for the preparation of meals found on the family-type menu.
For his part Benjamin's brother, who is also his neighbour, began renting out cabanas on the beach. Irma (wife of Elisabeth's brother who happens also to be Benjamin's cousin), works at this moment at the Joviseña, and is planning on renting rooms herself in Jobi in the near future.  For the moment, she is learning the business. Our pioneering couple is therefore everyone's model and an inspiration for the family and the community because of its active participation in bringing about local development.  I invite everyone to watch the video that I posted on Hopineo so that you also may get to know Elisabeth and Benjamin, and their heavenly spot: La Joviseña, Guachalito, Chocó, Colombia.
Always a Professional, even when on the most heavenly of beaches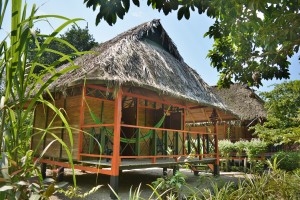 I will have spent two days and two nights at La Joviseña, which is in fact a rather short stay for me to tell you all about their best practices, make videos and take pictures (shooting and editing photos). If you are following me on my Facebook page (The Hospitality Tour), you might—for good reason—have the impression that I am having it easy on the other side of the ocean, but believe me when I say that, even sitting on a most beautiful beach, I don't stop working!
Sure, I admit it, I do indeed take the time for a good nap, and in between two working sessions, I do snack on delicious local specialties, chat with my hosts and with the neighbours … This makes for working conditions that are more than pleasant, that is true! And this gives me the chance to get to know the locals, to take the time to exchange confidences, and live small moments of complicity between girls, for example.       
I made a quick stop back in Nuquí, then travelled along the northern coast to the village of Jurubidá where Carmen and Nohelia are waiting for me  (or not … lol … there are times when communications in the tropics are not always easy!).
Translated by my friend Helene Masson