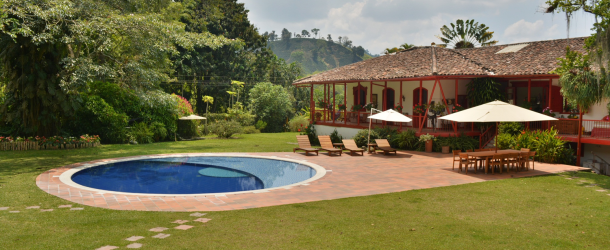 Hacienda Venecia… haaaa… Hacienda Venecia… The coffee plantation where time stopped: For travelers passing through but also for me, literally. I have been there three times in one month, and eventually left with a twinge of regret: Such a lovely staff, a magical place, I was almost feeling at home…
Meet Juan Pablo, owner of the Hacienda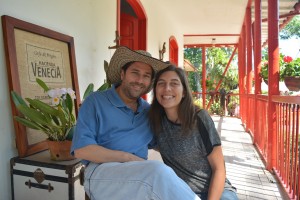 While in Bogotá I visited ANATO, the annual event of tourism professionals in Colombia, where I established most of the contacts regarding the second part of my Hospitality Tour through the country. There I also met Juan Pablo, third generation of his family-owned coffee plantation. Juan Pablo invited me to discover his hacienda, located right next to Manizales, in the heart of the "coffee triangle".
Juan Pablo lived 7 years in London, and his brother lives in Lausanne in Switzerland. He speaks a fluent English and even has a good basic knowledge of French. He therefore has a good understanding of the specific expectations of international travelers (especially Europeans) who visit the region and wish to discover and learn from his expertise and cultural heritage. He started to open Hacienda Venecia to visitors a couple of years ago, offering a tour explaining general coffee history and linking it to the local production of the plantation (200 hectares, certified UTZ).
Meet with Juan Pablo and Hacienda Venecia via the video published on Hopineo.org.
Ever more travelers and an authentic experience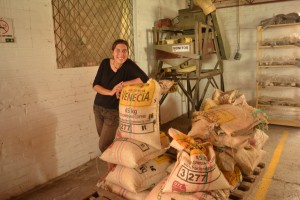 I am really impressed, Juan Pablo works a lot to develop a genuine, quality tourist experience in addition to the main activity of the family company (coffee production). Maintaining a balance between welcoming increasing numbers of travelers and preserving the atmosphere of the place is not necessarily one easy thing to do.
Hacienda Venecia has an interesting concept, offering three kind of accommodation to travelers according to one's stage in life:
Hostel: A youth hostel for "Backpackers", world travelers wishing to live a coffee plantation experience at a lower cost, sleeping in dormitories and cooking for themselves.
Guesthouse: A small hotel, B&B-like, for "Samsonite packers", looking for private rooms, more comfort and local cuisine for a good value.
Mainhouse: A guesthouse within the family house, where Juan Pablo and his parents stay on a regular basis, for "Louis Vuitton Packers" wishing to live an exclusive experience.
The three types of accommodation are spread on the plantation (But remains 15 min. away from each other by foot) and are separated by water streams. One of the important part of the Hacienda Venecia experience is local cuisine and family-type meals (See the video on Hopineo).
Sharing the family spirit of Hacienda Venecia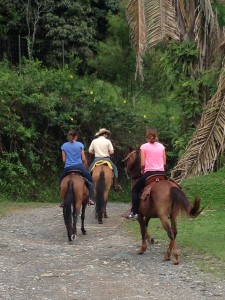 I had the chance to spend most of my time with Juan Pablo and his family in the "main house" (See picture at the top of this article), especially during my third and last stay during the Easter period: Bookings were closed in order to host relatives.
I have been able to go for walks through the coffee fields, by foot with Emilio (the dad) or on horseback with Juan Pablo. I cooked local food with Maria (the mom), Mexican food with the aunt, I prepared barbecues and watched ants with the uncle. Above all, along my stay I learnt a lot about the topic of coffee and the recent history of Colombia.
About work: Brainstorming sessions about the development strategy of Hacienda Venecia with Juan Pablo, organisation of a workshop on the topic of "responsible tourism" with the staff, three days of training and development of a marketing mix action plan with Daniela (newly recruited), and of course as usual, editing videos and publishing articles on www.hopineo.org! You can see, once again I haven't been idle 😉
Thus, as mentioned in the introduction it is with a twinge of regret I left Hacienda Venecia… But I have got this feeling it may not be long before I will be back in Colombia… To be continued ! I am back on the road, this time heading south. I must be in Ecuador in 15 days for the ESTC conference in Quito… And I still have three milestones in Colombia: Cali, Popayan et Mocoa.
Translated by my friend Guillaume Rey