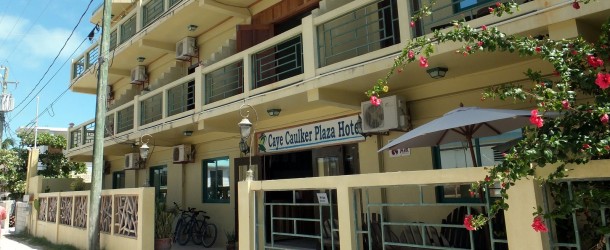 After spending my first 15 days in Mexico, I continue with my Hospitality Tour towards Belize, making the first stop in the small but charming island of Caye Caulker. There I met with the people from Plaza Hotel for 4 days. I have met again with Guillaume de Marseille, a French traveler who I had met in Tulum. In addition, during the boat ride, I met Estelle, a French girl from Burgundy. Do you want to follow our journey between coconuts?
From Hong Kong to Belize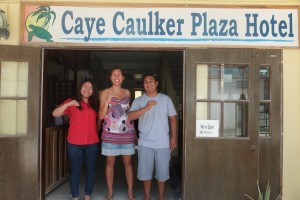 Since some weeksa go, thanks to a recommendation from a contact on Linkedin, I got in touch with Joanna via email, the daughter of the hotel owner (Thanks Kevin!). Joanna does not live on the island; however, she runs the hotel remotely from Canada. Back at the hotel, I met his little sister, Becky, and also Samuel. They both work in the hotel reception and are going to my "hosts" during my stay.
Joanna's and Becky's dad is originally from Hong Kong. He discovered Belice while traveling with friends when he was 20. He was in love with the charm of the island of Caye Caulker, so he decided to return and settle with his wife. He was learning the language of the place gradually, English, and entered the business world by opening his first store, then a second: grocery, electronics … and finally, three years ago, he decided to invest in a hotel that had built right in front of his small supermarket.
Joanna and Becky grew up on the island. Joanna took over the management of the hotel and later, Becky joined the team to assist in the reception. They, like his father, had never worked in a hotel, making it a beautiful new adventure for everyone.
A good quality / price ratio in the center of the island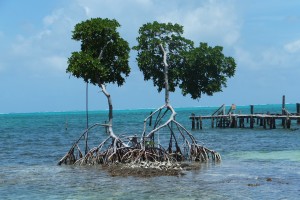 Caye Caulker Plaza Hotel is not a "luxury" hotel, however, it can not be considered as a hostel either. In fact, it lies in between these two types of accommodation. The hotel is located in the center of the island and offers 30 comfortable rooms at a reasonable price (from $ 50 USD).
Joanna and Becky are currently working on a new version of the hotel's website in order to increase its visibility online. In this task, I help them with the setup and use of a channel manager (which allows a centralized updating process for the prices and availability on different websites using a single platform) and I share with them some interesting practices and tips for its marketing strategy in social networks.
It's a short stay, but each new encounter with people gives me the opportunity to share very rewarding moments. I continue my way and this new Hotel Mission is a beautiful third experience, again a very positive one.
French connections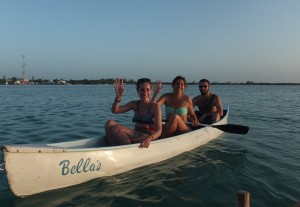 In Tulum, in a bar by chance, I met a traveler from France, whose adventure trip around the world has been going on for three years; and like me, is heading towards Panama. Guillaume es Marsellés with Corsican origins, and we have met in Mexico … that's why the title "French Connections" suits the situation (referring to the film of the same name, but don't worry mom, dad, grandma, you can rest assured that the "drugs" part of the film was not present here!). Guillaume and I got together again on the island on Saturday to spend three days together before going separate ways again when we leave this morning (and we will meet again later in Guatemala without a doubt!). It's fun to make friends this way. And it's very likely, that in the course of our journeys, our paths will cross again, and we will share our traveling experiences and some other advice. Cool, right?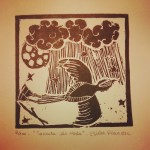 In addition, during the boat trip from Chetumal to the island of Caye Caulker, I befriended Estelle, a French girl from Burgundy region (near Auxerres). She travels alone and like me, is an active couchsurfer. You can imagine the time we had, it was great. I invited Estelle to share my hotel room. But of course! It would be a bit silly that she has to pay for a room in a hostel while I am staying alone and free in a room with a huge bed. Girls who travel alone must stick together. It is indeed a funny situation, it is as if I were hosting a couchsurfer while I am traveling! hi hi, couchsurfer one day couchsurfer forever!. Estelle produced small but magnificent drawings on the theme of Mexico, and she gave me one before leaving, really nice and gentle, I'm delighted. I'm sure our paths will cross again someday 🙂
So, the journey to Belize happens in a quiet way: coconuts, paradisiac lagoon, barbecue lobster, sunsets kayaking and good company. And without even having to speak in English or Spanish … actually, almost like a vacation!
All the photos (with the beaches and coconut trees of which I have not stopped talking about…) can be found in the Photo Gallery, or directly in Picasa.
---
And you?
Have you already been to Caye Caulker o San Pedro island?
Can you recommend places to visit in Belice ?
What do you think about the Facebook page of Caye Caulker Plaza Hotel ?
Translated by Fernando Miguel Manresa Viggiano